Bioactive Synergy Formula: Black Seed and Turmeric Supplement with Piperine Extract.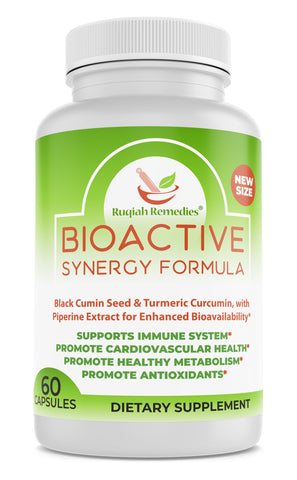 Ruqiah Remedies is pleased to present you with a supplement that combines Organic, Non-GMO Black Seed, Turmeric with Piperine extract in one vegetarian capsule.
For the first time ever, two of the most powerful natural antioxidants and anti-inflammatories are combined and supercharged with piperine extract to maximize your body's response and kickstart your metabolism. 
Black Seed "the cure for everything except death" a cornerstone of Prophetic medicine is combined with the ancient Turmeric healing spice in one supplement. Both of these bioactive nutrients combine thousands of years of health benefits which have been proven to be just as effective in 21st century clinical trials.
A few of the potential benefits our patent pending Bioactive Synergy Formula may do for you*:
1. Naturally boost your energy without the side effects of stimulants
2. Naturally promote weight loss
3. Naturally control blood sugar
4. Naturally reduce inflammation which relieves joint and muscle aches and can shorten post-exercise muscle recovery
5. Naturally control blood pressure
6. Naturally lower cholesterol
7. Natural fat burner
Clinically proven synergy between Black Seed and Turmeric with piperine optimized bioavailability, enables lower dosing with high potency and fewer side effects compared to high dose turmeric alone. 
 You can learn more about our product here and also read the 21st century clinical trials backing our product. 
All our ingredients are organic, vegetarian and our Turmeric is standardized to 95% Curcuminoids.
Please sign up with your email for notification of product availability, special offers and promotions
Follow @RuqiahrxTweet to @Ruqiahrx
* Individual results may vary
---
Liquid error (layout/theme line 309): Could not find asset snippets/spurit_uev-theme-snippet.liquid